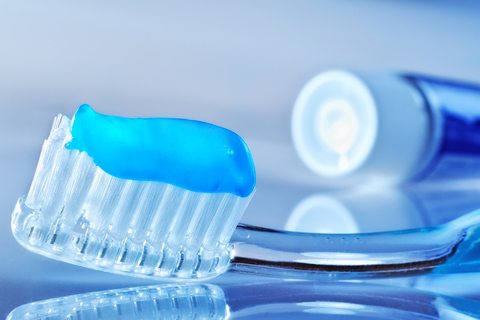 Which Toothpaste is right for you?
Standing in your local Tauranga supermarket looking at the huge array of toothpastes wondering which to buy can seem like a frustrating exercise. So let's simplify this.
Flavour
Buy the flavour you like. If you don't like the taste you will be less likely to brush for the recommend 2 minutes. This should be a priority in your choice.
Fluoride
Being a dentist we will recommend toothpastes containing fluoride particularly as there is no fluoride in our Tauranga and Western Bay of Plenty water supplies. Research shows overwhelmingly that it reduces decay, and is safe.
Look for a dosage of at least 1000ppm (1000 parts per million), it is such a low dose it is truly safe and beneficial. Most fluoride toothpastes will contain approximately this amount.
A higher dose is worth considering particularly if you are prone to getting holes in your teeth or live in the Tauranga – Bay of Plenty area. Macleans Advanced Enamel Lock contains 1429ppm and Colgate Sensitive Pro-Relief 1450ppm.
Dentists can provide you with a higher dose toothpaste if required.
Children under the age of 6 is quite safe to use adult toothpaste, however only use a thin smear as young children lack the ability to spit.
Sensitive teeth
Sensitive toothpastes are very effective in relieving sensitivity. There are two means of action: by blocking exposed dentine tubules and by reducing how the nerve responds to stimulation. These pastes tend to be more expensive, so if you have just a few sensitive spots you can simply rub a small amount of paste with your finger onto the sensitive spots and leave it sitting on the teeth. Do this morning and night without rinsing it off. Then continue to use you regular fluoride based toothpaste as per normal. Avoid whitening toothpastes if you have sensitive teeth.
If you have sensitive teeth do book a check up with your dentist rather than self-diagnosing. Sensitive teeth can also be a symptom of dental decay or gum disease.
Whitening toothpastes
Again expensive, and do they really work? Not really – you are probably wasting your money. If you read the fine print they discuss stain removal rather than whitening. Care needs to be taken as some contain more abrasive materials. With continued use the abrasion may actually darken your teeth as you wear away the white enamel layer exposing more of the yellow dentine layer.
Colgate Optic White contains a genuine whitening product, hydrogen peroxide, however the concentration is so low that you are not likely to see any major results.
If you are interested in whitening your teeth , your dentist is able to do this using proven methods, and we are currently offering lifetime whitening.
Tartar control
Tartar or calculus build up can be controlled with good brushing and flossing, and a good toothbrush. Specialised toothpaste is not necessary.
Natural Toothpastes
Natural toothpastes generally don't contain fluoride so are not a preferred option for us.
Triclosan
Triclosan is an antibacterial agent. This has come under media attention recently. It was thought to be safe, however recent studies in animals suggest it may alter hormone regulation, and in bacteria may cause antibiotic resistance. FDA has recommend more research. It is added to many household hand washes, sanitisers and soap. When added to toothpaste it does significantly reduce gingivitis and is an effective additive. Colgate Total contains triclosan.
Colgate maximum cavity protection with sugar acid neutraliser
This is worth a mention. It contains arginine (a naturally occurring amino acid found in saliva) and calcium. Their own tests seem to indicate that this reduces decay by 20% over a 2 year study period. It also contains a higher dose of fluoride at 1450ppm.
Recommended choice
Buy reputable brands, the flavour you like, containing at least 1000ppm Fluoride and buy on price. They truly all do much the same.
If you want more info
Here's how to translate the ingredients you'll find on the toothpaste tube.
Abrasives might be called calcium carbonate, calcium hydrogen phosphate, sodium bicarbonate, dicalcium phosphate dehydrate, silica or hydrated silica and sodium chloride. For efficient tooth cleaning, toothpaste needs to be mildly abrasive.
Humectants stop toothpaste hardening when it's exposed to air. Common humectants are sorbitol, polyethylene glycols and glycerol.
Binders disperse or swell in the presence of water and are used to stabilise the toothpaste by preventing separation of the solid and liquid phases. Binding agents in natural toothpaste include natural gums such as arabic, tragacanth, xanthan and carrageenan. Other products such as corn starch extract, CMC (sodium carboxymethyl cellulose) and cellulose may be used.
Detergents lower the surface tension and therefore help loosen plaque deposits and emulsify or suspend the debris removed from the tooth surface during cleaning. Commonly used detergent sodium lauryl sulphate, along with sodium lauryl sarcosinate, can irritate the skin. Lauryl polyglucose and lauryl glucoside are milder detergents.
Flavours will often be labelled as such.
Preservatives such as hydroxyl-benzoates or methyl-paraben help restrict microbial contamination. Antibacterial agents can be added to help prevent gingivitis.
Colour such as titanium oxide for white, chlorophyll for green and CI42090, an artificial blue colour.
Sweeteners include sorbitol (which is also a humectant), glycerol, xylitol (which can help prevent decay), stevia and sodium saccharin.