Comparing Traditional Braces with Invisalign
Have you decided to get braces for yourself or your child, but are unsure whether to opt for the traditional metal and ceramic braces or go for the invisible solution with Invisalign? It can be a difficult decision with conflicting advocates and dentists on either side. Luckily, the dental experts at Tooth Fairy Dental in Tauranga offer both types of braces, and we've broken down the pros and cons of each so you can make an informed decision.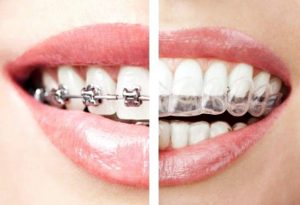 Similarities and Differences 
The first thing to understand is that both metal braces and Invisalign braces have the same end result: straighter teeth and improved oral health. At the end of the day, they both work, depending on case selection. Invisalign is generally used on cases with milder misalignment.
How they reach this end goal differs:
Traditional Braces use metal or ceramic brackets that are bonded to the cheek side of each tooth with an arched wire attached to each bracket either with metal or elastic. As you progress through your treatment, the arched wire is tightened, moving your teeth into alignment.
Invisalign uses multiple sets of clear trays customised to your mouth, which gradually bring your teeth into alignment. Unlike traditional braces, Invisalign can be removed for a couple hours a day, specifically when eating and drinking.
Pros and Cons 
Traditional Braces have a longer history of use, which makes some customers feel more comfortable, as opposed to Invisalign, which was developed in 1997.
Invisalign is invisible, or clear, which many people – especially adults – prefer. While metal braces now offer enamel coloured brackets, they are still easier to see.
Traditional braces are typically worn for around 2 years, while Invisalign takes 6 to 18 months, on average.
The cost varies greatly depending on personal need, but traditional braces are typically less expensive, while in Tauranga, Tooth Fairy Dental's Invisalign costs between $7500 and 8500.
For more complicated bite or teeth issues, traditional braces are more effective, so if you need bridgework, have back tooth bite issues or need any canines or premolars rotated, traditional braces are a necessity.
On the other hand, if you have a simple correction and can afford the extra cash, Invisalign braces are less painful, and there's no difficulty eating as you take the trays out during meal time.
Plus, for patients who play contact sports often – and we get many rugby-loving patients in Tauranga – Invisalign is preferred as the metal can cause injury.
If you want more help deciding between these two braces options, talk through your options with the friendly dentists at Tooth Fairy Dental in Te Puke and Mount Maunganui.